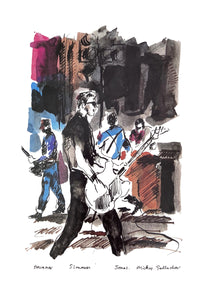 The Hand of Ray Lowry
The Clash - Mr Bass Man - 1979 - Limited Edition Print (1 of 79)
Regular price
£200.00
£0.00
Unit price
per
Tax included.
Shipping
calculated at checkout.
Sketchbook feel | Splashes of ink
 | Capturing the essence of Mr Simonon and his ability to epitomise the art of cool | Taken from the sketchbooks that accompanied Ray on ' The Clash's second tour of the USA in 1979 | Strummer, Simonon, Jones and Micky Gallagher is written in the hand of Ray along the bottom of the image |


" To many, of course, it's a rock and roll show and the latest excuse to jump up and down, however as if guided by some infallible rock and roll racial consciousness the band are more than ever, looking like the bastard offspring of Eddie Cochran, Gene Vincent and of a Harley Davidson. To someone of my great age it's nothing short of miraculous that the most intelligent, positive rock and roll on Earth at the present time is being presented nightly by this group who now look like the kind of awe-inspiring culture heroes who haunted the troubled skies of my adolescence. America is being reminded of how rock and roll looks as well as how it should sound " - Ray Lowry 
Taken from Rays 1979 tour sketch books of The Clash |
| Art dimension - 11.9" x 17"| Outer dimension - 16.5" x 23.4"
 approx |
| Giclée | Hahnemühle German Etching | 310gsm | Limited Edition of 79

All limited prints are numbered, embossed and come with a Certificate of Authenticity signed by Samuel Lowry on behalf of the Ray Lowry Estate.
---