A prolific artist, a body of work, a dedication to be of service to others and to catapult a legacy. This site celebrates the life and work of an artist, satirical commentator and all round madman. With a unique and unmistakable style his cartoons are world renowned, having had work published in the likes of NME, Private Eye, The Guardian and many more. His energetic ink sketches whilst on tour with The Clash are now collectors' items and his fine art and abstract work has gained recognition in the art world. Here you can delve a little deeper into the workings of the late great Raymond Lowry.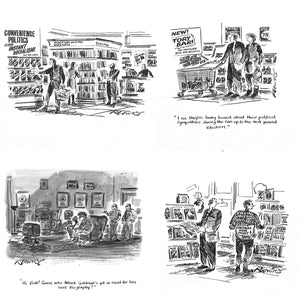 Limited - Edition Prints
Lesser known to the art world, Ray also produced some stunning Oil paintings. Several of these images are now available to buy as quality prints. Limited to 25 of each edition. Grab yourself a piece of history.......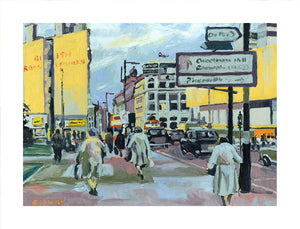 Manchester City Centre 1970's - Limited Edition (1 of 25)
Regular price
$321.00
Unit price
per
Full details →
---
Share this Product
Eddie and Gene (Somethin' Else) - see more